Seaford is covered by Gary the Chimney Sweep
Great news! Gary the Chimney Sweep is available to work in Seaford, remember I can help you with any of the following:


Chimney Swept & Vacuumed
Wood Burners & Stoves
Full Chimney Service & Restoration
Wood Stove Restoration
Bird nests removed
Complete Safety Inspections
Chimney Pots, Cowls and Bird guards
Free Advice on Chimney Liners
Colour CCTV Surveys
We accept cash, debit cards and all credit cards including Amex
If you have any queries or if there is another related job that you have in mind then don't hesitate to contact me by phone: 07825 163864, email: info@garythechimneysweep.co.uk or by using the chimney sweep enquiry form.



About Seaford
Seaford is a coastal town, the largest in Lewes District, has a rich heritage in both its culture and geography. Its close association with the sea, as proven by its name, has involved redevelopment of the coastline to keep abreast with natural evolution and human input. Nowadays, Sun lovers are drawn to the sand and shingle, with reputed warm temperatures in the water during Summer. Seaford itself was once known as the 'school town' due to the high number of schools – with seven schools in one mile alone. The community keep themselves busy with activities such as cricket, bowling, golf and, of course, swimming. There are also a number of busy churches. Famous people have dwelt there, including Clementine Churchill, the wife of Winston Churchill. Actor Nigel Davenport went to school in Seaford, and so did actress Penelope Keith and astronaut Piers Sellers. The town has given considerable contribution for its country during war time and there are seven Victoria Cross winners. Gary is the Master Sweep of Seaford and highly regards his customers there.
Visitors have much to enjoy in Seaford with the laid-back seafront, the Esplanade and the lovely, tidy shops. There are also the streets to explore and there's something unique about Seaford's architecture with a fair number of bungalows and other types, which complement the seaside setting. It's worth exploring roads such as the larger Alfriston Road and Sutton Road but gentle routes as well; in places such as Hartfield Road, Downview Road, Headland Avenue, Rother Road, Kingston Way, Fairways Road, Chyngton Way and Chyngton Avenue, and Chyngton Gardens, South Way, Saltwood Road, and Hindover Road.
Seaford has a strong representation when it comes to education and at one time, from the 19th century to the 1950s, it was even called a 'school town'. There were seven schools within one mile of Sutton Avenue in the 1960s. The preparatory and independent schools were complemented by Sunday schools in local churches. A number of these schools eventually closed and housing estates built, such as the St Peter's School site. These days, there are a lot of primary schools such as Seaford County Primary School and Cradle Hill but there's just one last state secondary school left – Seaford Head School. The sixth form at the school closed but reopened in 2014. Tower Hamlets Council runs Bowden House in Seaford, a special needs boarding school.
Seaford enjoys a number of sports clubs. The local football club is known as Seaford Town, and players meet regularly for games at Crouch Playing Field. Cricketers have been bowling since 1946 and matches are played at Salts Recreation Ground. Rugby is another townwide interest and there is also two bowling clubs: Crouch Bowling Club and Seaford Bowling Club. Seaford also has a sailing club for enthusiasts. Seaford Head and Seaford Golf Club provide two courses for golfers, with splendid sights and sounds of the nearby downland. A popular leisure facility is Seaford Head Swimming Pool, and also The Wave, which has dance classes, badminton sessions and activities for children.
Seaford has a strong connection to military history stretching back to Roman times. The famous Martello Tower was constructed in Seaford Bay in 1808, strengthening coastal defence. Later on, military camps were set up during both world wars in the vicinity. Seaford Ladies College was encircled by the 22nd Division of Kitchener's Third New Army during the Great War. Several Victoria Cross holders also have links to Seaford, namely: William Walker, Cuthbert Bromley, William McFadzean, Geoffrey Keyes, David Jamieson, Claud Raymond and 'H' Jones known for his daring charge at Goose Green in the Falklands War, which led to his death and a posthumous award. He went to St Peter's School in Seaford as a youngster.
Seaford is twinned with Bonningstedt in Germany, a relationship which was made official as far back as 1984. Seaford Twinning Association was renamed 'The Friends of Bonningstedt' with monthly social events such as bingo, quiz nights and pub skittles, as well as a visit to the German town every other year, with the German hosts visiting in turn the other year, alternatively. A German conversation group also exists in Seaford, called the Plauschgruppe and Seaford has road signs, a promenade and twinning charter in the council chamber, which all commemorate the special relationship. It is hoped that Seaford Twinning Association itself will form again in the future.
Seaford was once considered a 'rotten borough', meaning it had a small electorate but a political representation, larger than would normally be considered appropriate. Notable MPs, who once represented the town, included George Canning and William Pitt the Younger. Seaford was also a cinque port in connection with Hastings (one of a number of town on the coastal strip of the southern coast of England, for trade and military unity, although later for ceremonial purposes). During the reign of Henry III, history records Seaford as 'chief of the subordinate ports'.
Seaford's location is rather charming, in the vicinity of the Cuckmere and River Ouse. The South Downs form a majestic backdrop as the landscape drops down past the relaxed bungalows and houses to meet the ebb and flow and crash of the tide, as the dark green frothed waves of the English Channel roll back and forth to the coastline. In fact, the coast of Seaford is of particular interest to scientists and the area, particularly from the Seven Sisters to Beachy Head cliffs, is marked as a site of special scientific interest.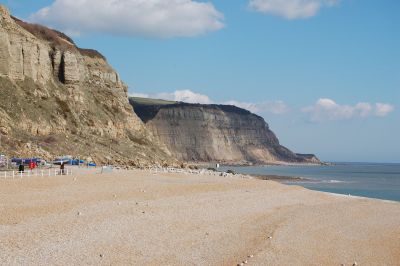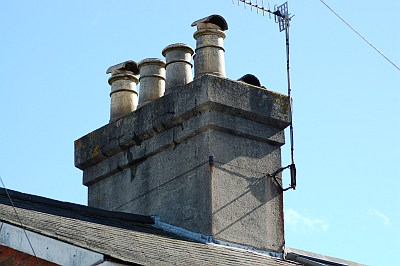 Seaford beach by Gary the chimney sweep.
Gary the Seaford, BN25 chimney sweep homepage
Places near to Seaford that we also cover