Lancing is covered by Gary the Chimney Sweep
Great news! Gary the Chimney Sweep is available to work in Lancing, remember I can help you with any of the following:


Chimney Swept & Vacuumed
Wood Burners & Stoves
Full Chimney Service & Restoration
Wood Stove Restoration
Bird nests removed
Complete Safety Inspections
Chimney Pots, Cowls and Bird guards
Free Advice on Chimney Liners
Colour CCTV Surveys
We accept cash, debit cards and all credit cards including Amex
If you have any queries or if there is another related job that you have in mind then don't hesitate to contact me by phone: 07825 163864, email: info@garythechimneysweep.co.uk or by using the chimney sweep enquiry form.



About Lancing
Lancing could well be the largest village in England, according to authorities, with an impressively high population count of more than 19,000 residents. Situated between Worthing and Shoreham-by-Sea, with the English Channel to the south and South Downs to the north, it is well-known for the famous Lancing College at the edge of the settlement. There is a respectable mix of shops in the town centre and residents are often seen enjoying a walk along Lancing Beach Green; beside the pebbled beach with fishermen casting their lines, trying their luck to land mackerel or perhaps a more mysterious beauty from the deep.
The road network across Lancing has a relaxed feel, perhaps because of its location next to the sea and downland. There are busy parts – the main A2025 links through to the A27 at the top end. There there is the A259 Brighton Road, known as the seafront road, which sees a fair amount of traffic. Residents live in a combination of styled homes, with a good representation in bungalows, in places such as Crabtree Lane, Chester Avenue, Elm Grove, Kings Road, Penhill Road, Tower Road, Annweit Avenue and North Road, with a good mix of local shops.
In fact, the shopping scene in Lancing, considering it is a village, is impressive with supermarket facilities, cafes, restaurants, pubs, retail outlets and charity shops. The railway station is also situated centrally in a convenient spot right in the middle of the village with convenient links west to Worthing and Chichester, and east towards Brighton. The atmosphere in Lancing is also something worth noting: friendly, relaxed with the sea shore providing a laidback option for both locals and visitors to find refreshment whether that's by watching the crash of the breathtaking aqua-blue waves or enjoying a cup of tea or coffee at a nearby eatery.
Lancing College has a prestigious reputation and is now known to include a family of schools from prep to sixth form. It is an independent school, which caters for both day pupils and boarders, which was founded by Nathaniel Woodard in 1848. The school itself dominates the skyline northwards of both Lancing and Shoreham-by-Sea, with the splendid buildings standing out beneath the dark green and yellow slopes of the South Downs, within sight of the River Adur. The buildings were designed by Richard Cromwell Carpenter in the 1850s with add-on structures by John William Simpson. The list of famous alumni is very long and includes peers, with leaders in the military, Anglican church, entertainment and the arts. Evelyn Waugh and Tom Sharpe are a couple of examples of authors who schooled at the college by way of examples and Sir Tim Rice, the famous lyricist known for his joint West End partnership with Andrew Lloyd Webber, was another graduate.
Sea fishing, as above, is a passionate hobby for a number of residents, not only in Lancing but along the south coastal strip. Fishing as an industry is still evident although perhaps not as flourishing as it was many years ago. Widewater Beach, on the border of Lancing and Shoreham, is considered a good spot to land a catch. Depending on the time of year, you can expect to reel in bream, various flat fish, huss, bass and more. It is recommended that you plan any fishing to ensure the tide is in the right place and bait used is appropriate. If in doubt, get in touch with a local fisherman or club via an online forum. They're a friendly bunch and happy to give advice.
Lancing town, not just Lancing College, has connections to famous folk. Heavyweight boxer Sir Henry Cooper, 'Our Enery' as he was affectionately known, was evacuated to Lancing from London, with his twin brother George, during the Second World War. It is said that he was lodged with a disciplinarian and later went on to a successful career, famously knocking out Muhammad Ali during one fight. Writer and poet Ted Walker, known for his short stories and also contributions to the Chichester Observer, also had connections to Lancing. He was born in the town (1934) and lived on Brighton Road.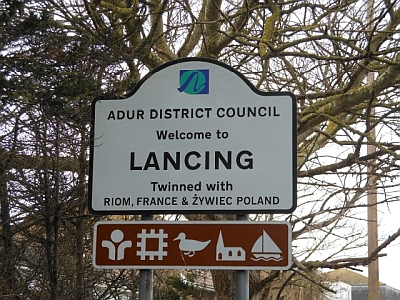 Looking for a chimney sweep in Lancing ?
Gary the chimney sweep covers all of Lancing and
the surrounding area.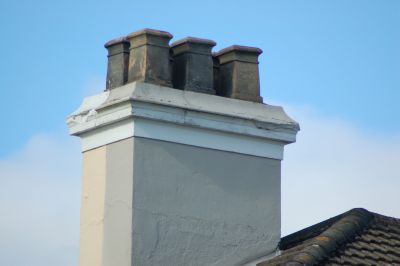 Gary the Lancing, BN15 chimney sweep homepage