Brighton is covered by Gary the Chimney Sweep
Great news! Gary the Chimney Sweep is available to work in Brighton, remember I can help you with any of the following:


Chimney Swept & Vacuumed
Wood Burners & Stoves
Full Chimney Service & Restoration
Wood Stove Restoration
Bird nests removed
Complete Safety Inspections
Chimney Pots, Cowls and Bird guards
Free Advice on Chimney Liners
Colour CCTV Surveys
We accept cash, debit cards and all credit cards including Amex
If you have any queries or if there is another related job that you have in mind then don't hesitate to contact me by phone: 07825 163864, email: info@garythechimneysweep.co.uk or by using the chimney sweep enquiry form.



About Brighton
The city of Brighton today offers a vast array of intriguing shops, a diverse culture and residents from all walks of life. This urban epicentre of energy has certainly evolved from its humble origins as a Saxon village. Once known as 'Beorthelm's Tum', then 'Brighthelmstone', fishermen thrived in trade off its beautiful pebbly shores. Brighton's progression from village to little market town (1300s), to booming settlement, helped in part by the visit of the Prince of Wales in 1783, has made it a key attraction in the South East. The chimney trade also has a long history, from the colourful characters and family firms of the Georgian period right up to Gary the Chimney Sweep in the present day. The Brighton Herald, on May 3 1828, records a lively procession of chimney sweeps in the then-town, dancing and holding tree branches.
Tourist attractions in Brighton today are well-known: the pier, Royal Pavilion, Marina, Sea Life Centre, higher education facilities, night club scene, and unusual eateries. For Gary the Chimney Sweep, it is the range of housing and chimney styles, which are most interesting. From Georgian facades to modern presentations, the architecture is simply superb and it's a real pleasure to sweep the chimneys!
The cultural mix in Brighton is diverse and the city itself spreads far and wide, from Dyke Road Avenue to Ditchling Road, to London Road. Sea lovers can enjoy a long promenade along Marine Parade and Kingsway, admiring the fresh air and crash of the waves and various traditional seaside attractions. Shoppers always head to The Lanes, an intriguing network of twittens and alleyways, which contain a wonderful assortment of individual shops and eateries.
Brighton (and Hove) city is widespread and memories of its former status as a simple fishing village are arguably retained only in the impressive museum set-up, these days. As the settlement has grown, so have residential areas, sometimes mixed with a retail aspect but also straightforward houses, bungalows and flats; in locations such as Moulescoomb, Withdean, Preston, Hollingbury, Kemptown, the Lanes, Coldean, and Withdean. The streets themselves are numerous, impressively grand, attractively small and laid out up-and-down across the natural downlands. A few examples are Elm Grove (a good route to the racecourse), Surrenden Road, Varndean Road, Hollingbury Rise, Freshfield Road, the Crossway, Colbourne Avenue, Coomb Road, Bear Road, Eastern Road, Queen's Road, Stanmer Villas, Moulescoomb Way, Preston Drove and the commercially driven Churchill Square.
The seafront has played a key role culturally and economically to Brighton's development. From the tough fishermen pulling their boats onto the shore of yesteryear, as mentioned above and told in the city's Fishing Museum, to the rolling entertainment, ranging from volleyball and watersports to excellent seaside view cafes and eateries, the seafront visage is compelling and a real draw for visitors. Brighton Pier is a main attraction with amusements, shows and traditional fish n' chips. Volk's electric railway, the oldest in Britain, takes passengers to Brighton Marina with a wonderful Regency era facade in the background.
Every city has a widespread representation of people but Brighton in particular boasts of residents from all kinds of backgrounds – students, families, commuters, elderly Brightonians, etc. It's an endless list of individuals and tribes, which creates an exciting atmosphere. Diversity is central to the culture of Brighton and that's not counting the tourists who flock to the city, especially in the summer months when they can enjoy a seafood snack while strolling along the promenade, a spin at a penny machine on the pier's arcade, tucking into a picnic in the pavilion gardens before visiting the theatre – leisure is certainly a major industry in the town. The shopping scene with individual outlets in the Laines and bigger brands in Churchill Square are also highly attractive. Restaurants offering fare ranging from noodles to falafels to unusual burgers to Michelin star level gastronomy – all abound throughout the city alongside numerous cafes, which make it a superb location for relaxation.
Brighton Festival, and also the fringe event, is a massive undertaking which draws crowds to the city of Brighton & Hove. The festival each May involves a range of arts events, including drama, music, film, literature, debates and even circus antics, with family orientated gatherings too. The festival was founded in 1967 and is known for pushing boundaries in exploring the human experience through the arts. It is one of Europe's leading arts festivals, and guest directors have included Brian Eno, Vanessa Redgrave and Michael Rosen. The organisers of Brighton Festival also run the Grade One listed, Brighton Dome and the two together are now a registered charity. Brighton Festival is among the many highlights of Brighton's arts and diverse culture scene.  
The theatre scene in Brighton is simply superb with a wonderful variety of top productions at the Pavilion Theatre, Komedia (mostly comedy and music) and Brighton Dome. That's not counting dramatic performances at smaller theatres such as the Marlborough Theatre and Brighton Little Theatre. There's also an open air theatre, which opened in May 2015 for the Brighton Festival. Whatever your tastes – drama, comedy, music – the city of Brighton definitely has it all to offer and with such fantastic restaurants, any visitors attending a performance can be sure of enjoying a superb night out. 
Food lovers are spoilt for choice when it comes to eating out in Brighton, with the city offering a vast range of cuisines to suit and challenge every palate. From Michelin-starred restaurants to trendy veggie cafes and simply very modern cafes too, not forgetting the noodle bars often mixing Oriental styles with intriguing effects, to superb seafood eateries, which feels just right with the setting by the sea – Brighton caters for every taste. It's perfect whether you're a city worker looking for a tantalising bite for the tastebuds, or a family needing to chomp in a relaxing but affordable pub where the kids can run riot, or perhaps a romantic couple seeking something a little bit different. There are eateries that serve just desserts and for those on-the-go, some fantastic takeaways not just conventionally but also in street market styles. Protecting the environement is a concern for Brighton's restaurant community and a number of food and drink establishments reflect that, showing a consciousness of environmentally friendly practises in their work ethic. 
Brighton's pier is a famous landmark structure, which draws tourists throughout the year. In fact, there were two piers in Brighton but the West Pier, where you'd once see people enjoying a promenade and even a dance in yesteryear, is now a derelict wreck left to ruin. The pier has been given a Grade I status despite its poor condition. Brighton Palace Pier, on the other hand, is a colourful spectacle with funfair rides, arcade machines, fish n' chip stands and seafood stalls, all of which make for a lively background for those who venture to the end of the pier, looking across the waves and hoping to see a glimpse of France. Brighton's Palace Pier is Grade II listed and opened in 1899. In fact, it was the third pier in the city because, apart from the wrecked West Pier, there was once a Suspension Chain Pier opened in 1823 that was smashed apart during a storm in 1896. 
Brighton Marina is a fascinating reclaimed 127-acre sea space, located eastwards along the promenade from Brighton city centre. The marina is an artificial structure on land reclaimed by the sea and it features a harbour with a large number of sailing boats, which are moored in some 1,600 berths there with related boat sale shops and equipment outlets, fuel berth and boatyard; alongside attractions such as shops, restaurants, a cinema, gym, bowling facilites and a supermarket. Brighton Marina was developed in the 1970s and it's a popular place for visitors of all ages. There are also residential apartments. The RNLI also has a presence at the marina, with a station on the west quay, from which an inshore lifeboat is in operation. For a free quote on chimney sweeping in Brighton & Hove, contact Gary the Chimney Sweep now on 07825 163864.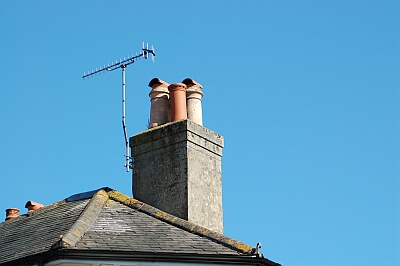 Picture taken by Gary the chimney sweep in Brighton
Need a chimney sweep in Brighton?
Gary covers the whole of Brighton and Hove
Gary the Brighton, BN2 chimney sweep homepage
Places near to Brighton that we also cover