This area is covered by Gary the Chimney Sweep
Great news! Gary the Chimney Sweep is available to work in Lancing, remember I can help you with any of the following:


Chimney Swept & Vacuumed
Wood Burners & Stoves
Full Chimney Service & Restoration
Wood Stove Restoration
Bird nests removed
Complete Safety Inspections
Chimney Pots, Cowls and Bird guards
Free Advice on Chimney Liners
Colour CCTV Surveys

If you have any queries or if there is another related job that you have in mind then don't hesitate to contact me by phone: 07825 163864, email: info@garythechimneysweep.co.uk or by using the chimney sweep enquiry form.



Map of Lancing
(Supplied by Google)



Lancing

Lancing could well be the largest village in England, according to authorities, with an impressively high population count of more than 19,000 residents. Situated between Worthing and Shoreham-by-Sea, with the English Channel to the south and South Downs to the north, it is well-known for the famous Lancing College at the edge of the settlement. There is a respectable mix of shops in the town centre and residents are often seen enjoying a walk along Lancing Beach Green; beside the pebbled beach with fishermen casting their lines, trying their luck to land mackerel or perhaps a more myserious beauty from the deep.
The road network across Lancing has a relaxed feel, perhaps because of its location next to the sea and downland. There are busy parts - the main A2025 links through to the A27 at the top end. There there is the A259 Brighton Road, known as the seafront road, which sees a fair amount of traffic. Residents live in a combination of styled homes, with a good representation in bungalows, in places such as Crabtree Lane, Chester Avenue, Elm Grove, Kings Road, Penhill Road, Tower Road, Annweit Avenue and North Road, with a good mix of local shops.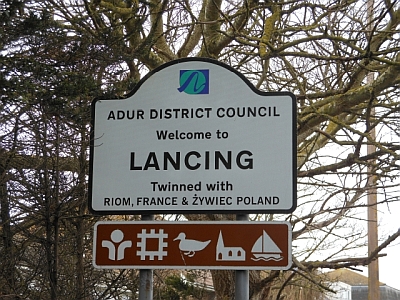 Looking for a chimney sweep in Lancing ?
Gary the chimney sweep covers all of Lancing and
the surrounding area.

Gary the Lancing, BN15 chimney sweep homepage