This area is covered by Gary the Chimney Sweep
Great news! Gary the Chimney Sweep is available to work in Hove, remember I can help you with any of the following:


Chimney Swept & Vacuumed
Wood Burners & Stoves
Full Chimney Service & Restoration
Wood Stove Restoration
Bird nests removed
Complete Safety Inspections
Chimney Pots, Cowls and Bird guards
Free Advice on Chimney Liners
Colour CCTV Surveys

If you have any queries or if there is another related job that you have in mind then don't hesitate to contact me by phone: 07825 163864, email: info@garythechimneysweep.co.uk or by using the chimney sweep enquiry form.



Map of Hove
(Supplied by Google)



Hove, strongly associated with nearby Brighton, with whom it is a unitary authority, is a relaxed settlement nestled by the English Channel in East Sussex. Famed for its wide boulevards, and Georgian and Victorian architecture; for many years, it was an insignificant village with just a single street and St Andrew's Church. There were just 101 residents recorded in the 1801 census. Stages of development, however, expanded the town and these days, Hove retains a unique identity. George Street, the main pedestrianised shopping street, is popular for both residents and visitors. There are also some superb restaurants, a pleasant seafront and great transport links. More than anything, it is Hove's architecture, with rooftops and chimneys galore, which are pleasing to the eye.
Hove is definitely a splendid city location, which enjoys grand architecture as depicted in the names of streets such as Goldstone Villas, Denmark Villas, Clarendon Road and Nevill Road, as well as Clarendon Villas, which becomes Portland Road that leads to Aldrington. Church Road contains a delightful array of individual shops and there is a coastal strip link with the Old Shoreham Road. Perhaps most intriguing is a spread of roads with a literary tinge in the etymology such as Wordsworth Street, Coleridge Street, Byron Street, Montgomery Street, and Cowper Street.
Hove does retain an individualistic character despite being linked so closely to Brighton. The tall architecture nearer the seafront creates a sense of respectability. Shops, especially in George Street aforementioned, offer a wide range of goods and there are plenty of restaurants and cafes to appease appetites with various cuisines offered. Nevertheless there is a sense of the older Hove, which peeks out amongst the modernity, whether that be houses of yesteryear, or family-run retail outlets and individual market stalls, which have been there for years or the archaic quality of the town hall's frontage. The seafront too evokes, naturally, a sense of timelessness and is a reliable setting to rest the mind while enjoying a walk along the promenade. Hove is a comfortable place of residence, which nodes approvingly at the future but still retains a sense of satisfaction about its long history.
Sir Winston Churchill was a pupil at a preparatory school based in Brunswick Road, Hove. The school was based at numbers 29 to 30 and it was thought that the fresh sea air would be good for Winston's fragile health as a youngster. He was a pupil between 1883 to 1885 at the school, under the care of Charlotte and Kate Thomson, two sisters, who showed him great kindness. At the time, the school was in fact on the outskirts of Hove, which was still being developed into the modern set-up known today. Winston himself recalled happy days at his school in Hove. He said: "I was allowed to learn things which interested me: French, history, and lots of poetry by heart, and above all riding and swimming."
Another very famous figure with a strong link to Hove, although it is not clear from his lifetime why, is George Everest, from whom the highest mountain in the world is named. He was the Surveyor-General of India and his remains were buried in Hove. He was interred at St Andrew's Old Parish Church on December 8 1866 after passing away in London.
Education facilities are second to none in Hove. There is the Brighton, Hove and Sussex Sixth Form College, which used to be known as the Brighton, Hove & Sussex Grammar School; alongside Blatchington Mill Sixth Form College and Hove Park Sixth Form Centre. Secondary schools number four in total: Hove Park School, Blatchington Mill School, King's School and Cardinal Newman Catholic School. Hove College is private and there are independent schools such as The Drive Prep School and Deepdene School, and a number of schools teaching ESOL. Seven primary schools cater for youngsters, which are Hangleton Junior School, St Andrew's C of E School, Mile Oak Primary School, Benfield Junior School, West Blatchington Primary School, Goldstone Primary School and West Hove Junior School.
Hove's residents are known for their friendly streak and also their humour. This has been exemplified with the phrase 'Hove, actually'. It was invented possibly by Laurence Olivier, the famous actor, who was a resident in Brighton. The logic goes that people in Hove like to distinguish Hove's separate identity to its formidable and culturally dominant counterpart, Brighton. So, if anyone asks if they are living in Brighton, the reply given, tongue-in-cheek, is 'Hove, actually'. Thus the visitor will gain a sense of the unique identity of Hove in a non offensive manner.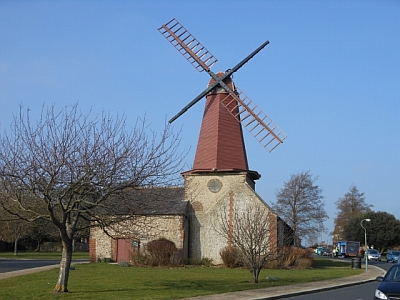 Windmill in Hove. Photo taken by Gary the chimney sweep.
Photo taken by Gary the chimney sweep.
Looking for a chimney sweep in Hove?
Gary the chimney sweep is availabe in the Brighton and Hove area.

Gary the Hove, BN3 chimney sweep homepage
Places near to Hove that we also cover