This area is covered by Gary the Chimney Sweep
Great news! Gary the Chimney Sweep is available to work in Hove, remember I can help you with any of the following:


Chimney Swept & Vacuumed
Wood Burners & Stoves
Full Chimney Service & Restoration
Wood Stove Restoration
Bird nests removed
Complete Safety Inspections
Chimney Pots, Cowls and Bird guards
Free Advice on Chimney Liners
Colour CCTV Surveys

If you have any queries or if there is another related job that you have in mind then don't hesitate to contact me by phone: 07825 163864, email: info@garythechimneysweep.co.uk or by using the chimney sweep enquiry form.



Map of Hove
(Supplied by Google)



Hove, strongly associated with nearby Brighton, with whom it is a unitary authority, is a relaxed settlement nestled by the English Channel in East Sussex. Famed for its wide boulevards, and Georgian and Victorian architecture; for many years, it was an insignificant village with just a single street and St Andrew's Church. There were just 101 residents recorded in the 1801 census. Stages of development, however, expanded the town and these days, Hove retains a unique identity. George Street, the main pedestrianised shopping street, is popular for both residents and visitors. There are also some superb restaurants, a pleasant seafront and great transport links. More than anything, it is Hove's architecture, with rooftops and chimneys galore, which are pleasing to the eye.
Hove is definitely a splendid city location, which enjoys grand architecture as depicted in the names of streets such as Goldstone Villas, Denmark Villas, Clarendon Road and Nevill Road, as well as Clarendon Villas, which becomes Portland Road that leads to Aldrington. Church Road contains a delightful array of individual shops and there is a coastal strip link with the Old Shoreham Road. Perhaps most intriguing is a spread of roads with a literary tinge in the etymology such as Wordsworth Street, Coleridge Street, Byron Street, Montgomery Street, and Cowper Street.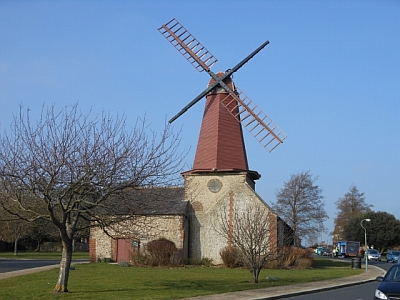 Windmill in Hove. Photo taken by Gary the chimney sweep.
Photo taken by Gary the chimney sweep.
Looking for a chimney sweep in Hove?
Gary the chimney sweep is availabe in the Brighton and Hove area.

Gary the Hove, BN3 chimney sweep homepage
Places near to Hove that we also cover