Crawley is covered by Gary the Chimney Sweep
Great news! Gary the Chimney Sweep is available to work in Crawley, remember I can help you with any of the following:


Chimney Swept & Vacuumed
Wood Burners & Stoves
Full Chimney Service & Restoration
Wood Stove Restoration
Bird nests removed
Complete Safety Inspections
Chimney Pots, Cowls and Bird guards
Free Advice on Chimney Liners
Colour CCTV Surveys
We accept cash, debit cards and all credit cards including Amex

If you have any queries or if there is another related job that you have in mind then don't hesitate to contact me by phone: 07825 163864, email: info@garythechimneysweep.co.uk or by using the chimney sweep enquiry form.



About Crawley
Crawley, with its 13 neighbourhoods, is a popular town in West Sussex, 28 miles south from London. In close proximity to Gatwick Airport, Crawley is an ideal base for commuters. It also has a strong shopping base, which dates back to the 13th century, when it developed as a market town. The history of the settlement actually has its origins in the Stone Age and the Romans later had a base there for iron working. The location between the capital city and Brighton meant Crawley became a well-known stop-over when coaching inns were developed and the town was linked to London via the railway in 1841. These days, visitors can enjoy the core of the old market town and Pound Hill, Ilfield and Three Bridges have, in time, been absorbed into Crawley. 
The sheer size of Crawley means the residential areas, as mentioned, are widespread. Streets that are particularly popular for living include Bewbush Drive, Breezehurst Drive, Creasys Drive, Longhurst Road, Selseys Road, Abrahams Road and Tollgate Hill in Broadfield; Gaston Wood Road, Sullivan Drive, Barlow Road, Runcorn Close, Arcturus Road and Steveage Road in Bewbush; Malthouse Road, Brewers Road, Boswell Road, Drake Road, Shackleton Road, Scott Road, Ashdown Drive, Winchester Road, Oxford Road, Salisbury Road, and Holgarth Road in Tilgate; and Deerswood Road, Ewhurst Road, Biuckmans Road, Sunnymead, Town Barn Road, Albany Road and The Dingle in West Green. That's not an exhaustive list, it would take a phone book to list more residential streets but this is a good indicator about how far and wide the town of Crawley is and it's importance as a commuter hub cannot be overstated.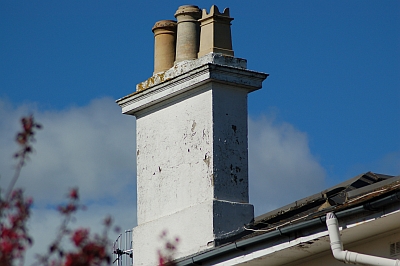 Looking for a chimney sweep in Crawley?
Gary the chimney sweep covers the whole of Crawley and the surrounding area.
Gary the Crawley, RH11 chimney sweep homepage
Places near to Crawley that we also cover